Drop Shape Analyzer
DSA25E (r01)
From one-click wettability measurement to analysis of solid-liquid adhesion | Condition: Good
-25 % OFF
14.283,00 €19.044,00 €
excl. 19% VAT
1 in stock
Refurbished at the KRÜSS headquarters
Free packaging and shipping
Discount-priced
Condition: Good
| | | |
| --- | --- | --- |
| | ➤ | The instrument shows clear signs of use, e.g., noticeable scratches, visible paint abrasion, or minor impact marks. |
| | ➤ | It is quality-approved and warrantied for 12 months. |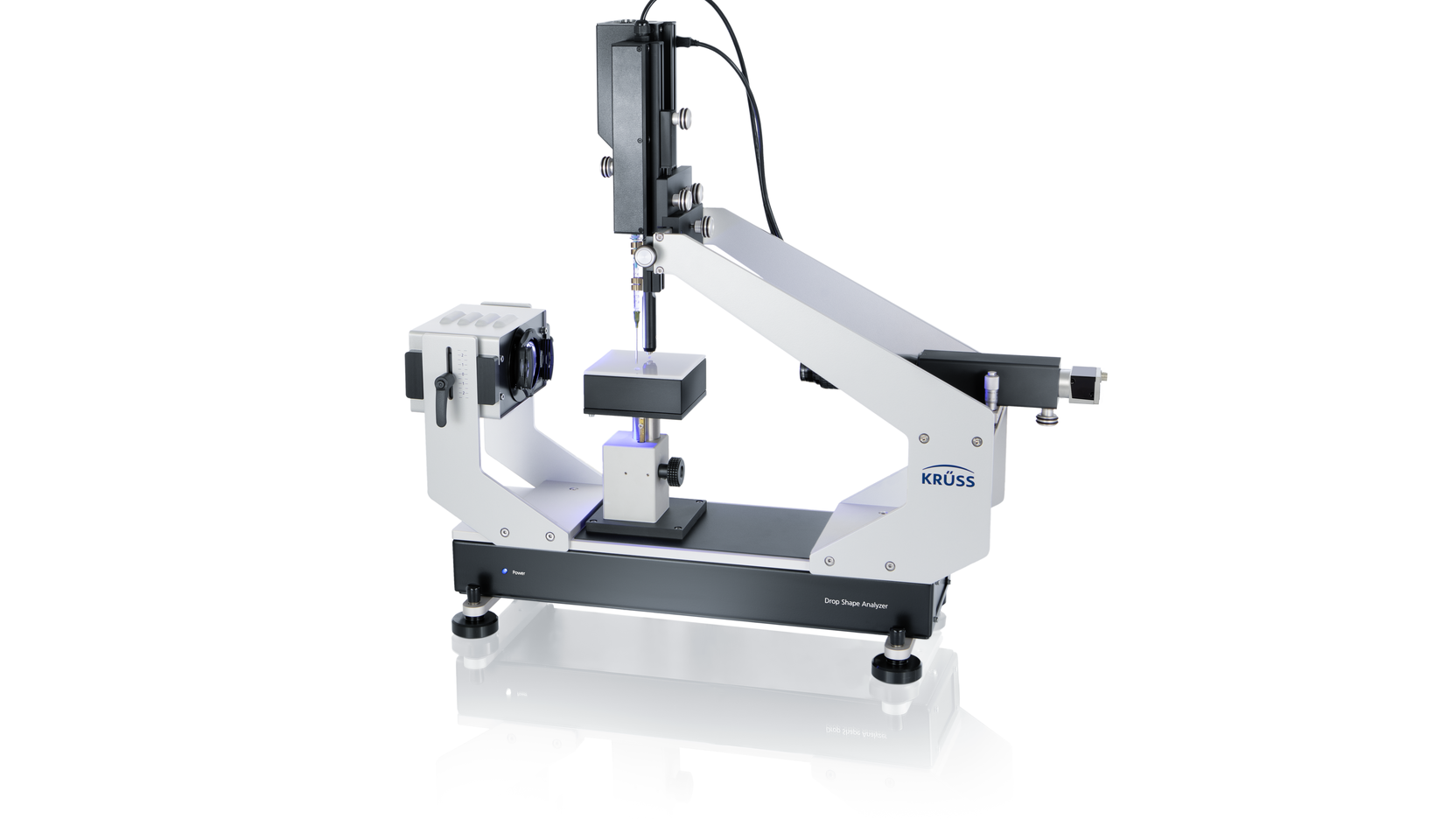 Extend of delivery
DSA25 Expert / Drop Shape Analyzer for contact angle measurements, surface and interfacial tension measurements, surface free energy calculation, consisting of:
CF04, High Resolution and High Speed Camera USB 3.0, consisting of: - Sensor 11 x 7 mm / 1/1.2'' CMOS - IR-CUT filter for elimination of optical disturbances - 160 fps (1200 x 1200 pixels), 320 fps (1200 x 600 pixels), 600 fps (1200 x 300 pixels), 1440 fps (1200 x 100 pixels), 2300 fps (1200 x 50 pixels)
CM4210, Optical system with manual zoom (6.5 x) and fine focus, Field of view CF04: 3.2 x 3.2 ... 18.5 x 18.5 mm
1x DO4011, Syringe Dosing, software-controlled for disposable and glass syringes, incl. disposable syringe like SY3601, glass syringes SY20 and needle set NE94 Resolution: 0.1 µl with SY20, Dosing rate: 0,02 -25 µl/s with SY20
1x DO3252, Pressure Dosing using Liquid Needle technology, resolution 0,1 µl, for H2O and CH2I2
NM4012, Needle Lift and Selector for up to 2 liquids, manual
EM3201, Electronic Module
PS4000, z-Axis, manual with flexible positioning in x/y-direction with 45 mm movement in z-direction, up to 5 kg
ST3201, Sample Stage, 100 x 100 mm (W x D)
IL4220, High Power LED Illumination, monochromatic, Ø 42 mm, with two power levels and integrated light-blind for small contact angles
EM3285, Electronic Module with two connectors for temperature sensors Pt100
FM4000, Standard Frame: Sample space: 320 x oo x 165 mm (W x D x H) Outer dimensions: 610 x 250 x 430 mm (W x D x H) (depending on accessories)
EM4225, Base Electronic Module, incl. PC Interface to connect additional electronic modules
EM11, Power Supply (88-264 V, 100 W, 50-60 Hz)
Operating: + 10°C ... + 40°C without condensation Storage: - 10°C ... + 70°C without condensation
➤ Software modules AD4021, AD4032 and AD4023 are included. Installation and training are not included.
Offers and prices on this website are only valid for the limited stock in the following countries: Austria, Belgium, Denmark, Finland, France, Germany, Ireland, Liechtenstein, Luxemburg, Netherlands, Norway, Spain, Switzerland, United Kingdom.